Posted on March 13th, 2015
Overview
Adult acquired flatfoot deformity
, primarily posterior tibial tendon dysfunction, in many cases can be successfully managed with conservative treatment modalities including early immobilization, long-term bracing, physi?cal therapy, and anti-inflam?matory medications. Adult acquired flatfoot deformity (AAFD), the painful flatfoot deformity in adults, is a major cause of disability for a patient and can be a challenge for foot and ankle specialists.
Causes
Damage to the posterior tendon from overuse is the most common cause for adult acquired flatfoot. Running, walking, hiking, and climbing stairs are activities that add stress to this tendon, and this overuse can lead to damage. Obesity, previous ankle surgery or trauma, diabetes (Charcot foot), and rheumatoid arthritis are other common risk factors.
Symptoms
Pain along the inside of the foot and ankle, where the tendon lies. This may or may not be associated with swelling in the area. Pain that is worse with activity. High-intensity or high-impact activities, such as running, can be very difficult. Some patients can have trouble walking or standing for a long time. Pain on the outside of the ankle. When the foot collapses, the heel bone may shift to a new position outwards. This can put pressure on the outside ankle bone. The same type of pain is found in arthritis in the back of the foot. Asymmetrical collapsing of the medial arch on the affected side.
Diagnosis
Looking at the patient when they stand will usually demonstrate a flatfoot deformity (marked flattening of the medial longitudinal arch). The front part of the foot (forefoot) is often splayed out to the side. This leads to the presence of a ?too many toes? sign. This sign is present when the toes can be seen from directly behind the patient. The gait is often somewhat flatfooted as the patient has the dysfunctional posterior tibial tendon can no longer stabilize the arch of the foot. The physician?s touch will often demonstrate tenderness and sometimes swelling over the inside of the ankle just below the bony prominence (the medial malleolus). There may also be pain in the outside aspect of the ankle. This pain originates from impingement or compression of two tendons between the outside ankle bone (fibula) and the heel bone (calcaneus) when the patient is standing.
Non surgical Treatment
Flatfoot can be treated with a variety of methods, including modified shoes, orthotic devices, a brace or cast, anti-inflammatory medications or limited steroid injections, rest, ice, and physical therapy. In severe cases, surgery may be necessary.
Surgical Treatment
In cases where cast immobilization, orthoses and shoe therapy have failed, surgery is the next alternative. The goal of surgery and non-surgical treatment is to eliminate pain, stop progression of the deformity and improve mobility of the patient. Opinions vary as to the best surgical treatment for adult acquired flatfoot. Procedures commonly used to correct the condition include tendon debridement, tendon transfers, osteotomies (cutting and repositioning of bone) and joint fusions. (See surgical correction of adult acquired flatfoot). Patients with adult acquired flatfoot are advised to discuss thoroughly the benefits vs. risks of all surgical options. Most procedures have long-term recovery mandating that the correct procedure be utilized to give the best long-term benefit. Most flatfoot surgical procedures require six to twelve weeks of cast immobilization. Joint fusion procedures require eight weeks of non-weightbearing on the operated foot - meaning you will be on crutches for two months. The bottom line is, Make sure all of your non-surgical options have been covered before considering surgery. Your primary goals with any treatment are to eliminate pain and improve mobility. In many cases, with the properly designed foot orthosis or ankle brace, these goals can be achieved without surgical intervention.
Posted on March 5th, 2015
Overview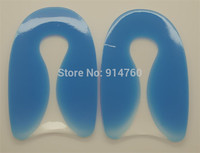 Achilles tendinitis is often a misnomer, as most problems associated with the Achilles tendon are not strictly an inflammatory response. A more appropriate term, which most experts now use, is Achilles tendinopathy which includes, Tendinosis, microtears in the tissues in and around the tendon. Tendinitis, inflammation of the tendon Most cases of Achilles tendon pain is the result of tendinosis. Tendon inflammation (tendinitis) is rarely the cause of tendon pain. Achilles tendinopathy is a common condition that occurs particularly in athletes and can be difficult to treat due to the limited vascular supply of the tendon and the stress within the Achilles tendon with every step. Evidence indicates that treatment incorporating custom foot orthoses can improve this condition by making the foot a more effective lever in gait. A 2008 study reported between 50 and 100% relief (average 92%) from Achilles tendinopathy symptoms with the use of custom foot orthoses.
Causes
The majority of Achilles tendon injuries are due to overuse injuries. Other factors that lead to Achilles tendonitis are improper shoe selection, inadequate stretching prior to engaging in athletics, a short Achilles tendon, direct trauma (injury) to the tendon, training errors and heel bone deformity. There is significant evidence that people with feet that role in excessively (over-pronate) are at greater risk for developing Achilles tendinitis. The increased pronation puts additional stress on the tendon, therefore, placing it at greater risk for injury.
Symptoms
Patients with this condition typically experience pain in the region of the heel and back of the ankle. In less severe cases, patients may only experience an ache or stiffness in the Achilles region that increases with rest (typically at night or first thing in the morning) following activities which place stress on the Achilles tendon. These activities typically include walking or running excessively (especially uphill or on uneven surfaces), jumping, hopping, performing heel raises or performing calf stretches. The pain associated with this condition may also warm up with activity in the initial stages of injury. As the condition progresses, patients may experience symptoms that increase during sport or activity, affecting performance. Pain may also increase when performing a calf stretch or heel raise (i.e. rising up onto tip toes). In severe cases, patients may walk with a limp or be unable to weight bear on the affected leg. Patients with Achilles tendonitis may also experience swelling, tenderness on firmly touching the Achilles tendon, weakness and sometimes palpable thickening of the affected Achilles tendon when compared with the unaffected side.
Diagnosis
If you think you might have Achilles tendonitis, check in with your doctor before it gets any worse. Your doc will ask about the activities you've been doing and will examine your leg, foot, ankle, and knee for range of motion. If your pain is more severe, the doctor may also make sure you haven't ruptured (torn) your Achilles tendon. To check this, the doc might have you lie face down and bend your knee while he or she presses on your calf muscles to see if your foot flexes. Any flexing of the foot means the tendon is at least partly intact. It's possible that the doctor might also order an X-ray or MRI scan of your foot and leg to check for fractures, partial tears of the tendon, or signs of a condition that might get worse. Foot and ankle pain also might be a sign of other overuse injuries that can cause foot and heel pain, like plantar fasciitis and Sever's disease. If you also have any problems like these, they also need to be treated.
Nonsurgical Treatment
Make sure that the tendon is not torn through and through. If it is severed, you must see a doctor immediately so that the tendon can be repaired. Severe injuries can sever a tendon, without a skin laceration being present. Testing involves moving the toes and foot to see if the tendon moves. If the tendon does not appear to move, it may be severed (comparing the injured tendon and its movement to the same tendon on the uninjured foot may help). Very sharp pain, a sudden pop, or an obvious gap in the structure of the tendon are all signs of a rupture, and should be seen by a doctor as soon as possible. If there is extreme swelling of the leg, and pain (out of proportion to the amount of trauma received), you may have sustained a vascular injury. A doctor must see this type of injury immediately. If you are not sure, see a doctor. If you have multiple injured areas see a doctor immediately, in order to prevent excessive swelling and pain. If the above exam is negative, then you may proceed with self-treatment. (However, if you are not sure of the extent of your injury, you should consult your doctor immediately). The sooner you begin to treat your injury by following "R.I.C.E.", the better you will feel. Rest is very important. Take off your shoe, get off your feet, and relax. Ice should be applied as soon as possible. Never apply ice directly on the injured area, as the cold may make the pain worse. Ice should be applied close to the injured site, between the heart and the injury, so that as the blood flows under the ice, it will be cooled. This cool blood flowing into the injured area will help to reduce the swelling and pain. Apply the ice, wrapped in a cloth or over an elastic bandage, to the foot for 15 minutes, every 1-2 hours, for up to 3 days after an injury. If the ice is uncomfortable, or causes increased pain, do not continue to use it, and see a doctor. If you have poor circulation do not use ice, as this may cause a serious problem. c. Compression is used to limit swelling, and to give support to the injured area. Compression should be applied to the entire foot, starting first at the toes and working back to the ankle. If it is applied just to the injured area, increased swelling will occur in front and behind the wrapping. Compression should be applied with a 3-inch elastic bandage, beginning around the base of all the toes, and then going around the foot and ankle. Continue over the calf muscle when possible. Compression reduces motion in the injured area and foot, and this decreases the pain, and allows for quicker healing. The bandage should not be so tight that it causes increased pain or throbbing in the toes or foot. It should be comfortable! Do not remove the elastic bandage for the first 12 hours, unless it becomes too tight, or the pain increases, or the toes become pale, blue, or cool. If any of these things happen, immediately remove all bandages, and leave them off for several hours. The normal color and temperature of the toes should return immediately. If not, see a doctor immediately! Continue until the swelling and pain subsides; it could take from several days to several weeks. d. Elevation of the leg will aid in reducing swelling and pain. Blood rushes to an injured area to bring increased blood cells, that aid in healing. Gravity will also force blood to the injured area. Too many cells and too much fluid will apply pressure to the injured nerves and tissues, and cause increased pain and delayed healing. Keep your foot elevated so that it is at least parallel to the ground, or higher if it is comfortable. Do this for at least 48 hours, or until the throbbing subsides, when you lower the leg.
Surgical Treatment
Surgery for an Achilles tendon rupture can be done with a single large incision, which is called open surgery. Or it can be done with several small incisions. This is called percutaneous surgery. The differences in age and activity levels of people who get surgery can make it hard to know if Achilles tendon surgery is effective. The success of your surgery can depend on, your surgeon's experience. The type of surgery you have. How damaged the tendon is. How soon after rupture the surgery is done. How soon you start your rehab program after surgery. How well you follow your rehab program. Talk to your surgeon about his or her surgical experience. Ask about his or her success rate with the technique that would best treat your condition.
Prevention
Suggestions to reduce your risk of Achilles tendonitis include, icorporate stretching into your warm-up and cool-down routines. Maintaining an adequate level of fitness for your sport. Avoid dramatic increases in sports training. If you experience pain in your Achilles tendon, rest the area. Trying to ?work through? the pain will only make your injury worse. Wear good quality supportive shoes appropriate to your sport. If there is foot deformity or flattening, obtain orthoses. Avoid wearing high heels on a regular basis. Maintaining your foot in a ?tiptoe? position shortens your calf muscles and reduces the flexibility of your Achilles tendon. An inflexible Achilles tendon is more susceptible to injury. Maintain a normal healthy weight.
Posted on January 16th, 2015
Overview
Plantar fasciitis is one of the most common explanations of heel pain. It is caused by inflammation to the thick band that connects the toes to the heel bone, called the plantar fascia, which runs across the bottom of your foot. The condition is most commonly seen in runners, pregnant women, overweight people, and individuals who wear inadequately supporting shoes. Plantar fasciitis typically affects people between the ages of 40 and 70.
Causes
There are several possible causes of plantar fasciitis, including wearing high heels, gaining weight, increased walking, standing, or stair-climbing. If you wear high-heeled shoes, including western-style boots, for long periods of time, the tough, tendonlike tissue of the bottom of your foot can become shorter. This layer of tissue is called fascia. Pain occurs when you stretch fascia that has shortened. This painful stretching might happen, for example, when you walk barefoot after getting out of bed in the morning. If you gain weight, you might be more likely to have plantar fasciitis, especially if you walk a lot or stand in shoes with poor heel cushioning. Normally there is a pad of fatty tissue under your heel bone. Weight gain might break down this fat pad and cause heel pain. Runners may get plantar fasciitis when they change their workout and increase their mileage or frequency of workouts. It can also occur with a change in exercise surface or terrain, or if your shoes are worn out and don't provide enough cushion for your heels. If the arches of your foot are abnormally high or low, you are more likely to develop plantar fasciitis than if your arches are normal.
Symptoms
Plantar fascia usually causes pain and stiffness on the bottom of your heel although some people have heel spurs and suffer no symptoms at all. Occasionally, heel pain is also associated with other medical disorders such as arthritis (inflammation of the joint), bursitis (inflammation of the tissues around the joint). Those who have symptoms may experience 'First step' pain (stone bruise sensation) after getting out of bed or sitting for a period of time. Pain after driving. Pain on the bottom of your heel. Deep aching pain. Pain can be worse when barefoot.
Diagnosis
Your doctor can usually diagnose plantar fasciitis just by talking to you and examining your feet. Rarely, tests are needed if the diagnosis is uncertain or to rule out other possible causes of heel pain. These can include X-rays of the heel or an ultrasound scan of the fascia. An ultrasound scan usually shows thickening and swelling of the fascia in plantar fasciitis.
Non Surgical Treatment
In the early stages of plantar fasciitis resting the foot may ease the pain. Medication to reduce inflammation should help but should only be used short term. Strapping may temporarily reduce the pain. All of the above therapies are only temporary measures and the pain is likely to reoccur if the cause of the abnormal pressure which has triggered the plantar fasciitis has not been identified. In order to establish the cause of the plantar fasciitis a biomechanical assessment may be required.
Surgical Treatment
If treatment hasn't worked and you still have painful symptoms after a year, your GP may refer you to either an orthopaedic surgeon, a surgeon who specialises in surgery that involves bones, muscles and joints, a podiatric surgeon, a podiatrist who specialises in foot surgery. Surgery is sometimes recommended for professional athletes and other sportspeople whose heel pain is adversely affecting their career. Plantar release surgery. Plantar release surgery is the most widely used type of surgery for heel pain. The surgeon will cut the fascia to release it from your heel bone and reduce the tension in your plantar fascia. This should reduce any inflammation and relieve your painful symptoms. Surgery can be performed either as, open surgery, where the section of the plantar fascia is released by making a cut into your heel, endoscopic or minimal incision surgery - where a smaller incision is made and special instruments are inserted through the incision to gain access to the plantar fascia. Endoscopic or minimal incision surgery has a quicker recovery time, so you will be able to walk normally much sooner (almost immediately), compared with two to three weeks for open surgery. A disadvantage of endoscopic surgery is that it requires both a specially trained surgical team and specialised equipment, so you may have to wait longer for treatment than if you were to choose open surgery. Endoscopic surgery also carries a higher risk of damaging nearby nerves, which could result in symptoms such as numbness, tingling or some loss of movement in your foot. As with all surgery, plantar release carries the risk of causing complications such as infection, nerve damage and a worsening of your symptoms after surgery (although this is rare). You should discuss the advantages and disadvantages of both techniques with your surgical team. Extracorporeal shockwave therapy (EST) is a fairly new type of non-invasive treatment. Non-invasive means it does not involve making cuts into your body. EST involves using a device to deliver high-energy soundwaves into your heel. The soundwaves can sometimes cause pain, so a local anaesthetic may be used to numb your heel. It is claimed that EST works in two ways. It is thought to, have a "numbing" effect on the nerves that transmit pain signals to your brain, help stimulate and speed up the healing process. However, these claims have not yet been definitively proven. The National Institute for Health and Care Excellence (NICE) has issued guidance about the use of EST for treating plantar fasciitis. NICE states there are no concerns over the safety of EST, but there are uncertainties about how effective the procedure is for treating heel pain. Some studies have reported that EST is more effective than surgery and other non-surgical treatments, while other studies found the procedure to be no better than a placebo (sham treatment).
Prevention
An important part of prevention is to perform a gait analysis to determine any biomechanical problems with the foot which may be causing the injury. This can be corrected with orthotic inserts into the shoes. If symptoms do not resolve then surgery is an option, however this is more common for patients with a rigid high arch where the plantar fascia has shortened.
Posted on January 12th, 2015
Overview
A common condition that affects people of all ages. Symptoms include heel pain that is worse upon arising in the morning or standing after prolonged sitting. The pain is caused by inflammation of the plantar fascia, the ligament that connects the heel bone to the toes.
Causes
Plantar fasciitis is caused by small, repetitive trauma to the plantar fascia. This trauma can be due to activity that puts extra stress on the foot. Plantar fasciitis is most common in people who are 40-60 years old. Other risk factors that increase your chance of getting plantar fasciitis include physical exertion, especially in sports such as running, Volleyball, tennis, a sudden increase in exercise intensity or duration, physical activity that stresses the plantar fascia. People who spend a lot of time standing, a sudden increase in activities that affect the feet, obesity or weight gain, pre-existing foot problems, including an abnormally tight Achilles tendon, flat feet, or an ankle that rolls inward too much. Poor footwear. Heel spurs.
Symptoms
Plantar fascia usually causes pain and stiffness on the bottom of your heel although some people have heel spurs and suffer no symptoms at all. Occasionally, heel pain is also associated with other medical disorders such as arthritis (inflammation of the joint), bursitis (inflammation of the tissues around the joint). Those who have symptoms may experience 'First step' pain (stone bruise sensation) after getting out of bed or sitting for a period of time. Pain after driving. Pain on the bottom of your heel. Deep aching pain. Pain can be worse when barefoot.
Diagnosis
Plantar fasciosis is confirmed if firm thumb pressure applied to the calcaneus when the foot is dorsiflexed elicits pain. Fascial pain along the plantar medial border of the fascia may also be present. If findings are equivocal, demonstration of a heel spur on x-ray may support the diagnosis; however, absence does not rule out the diagnosis, and visible spurs are not generally the cause of symptoms. Also, infrequently, calcaneal spurs appear ill defined on x-ray, exhibiting fluffy new bone formation, suggesting spondyloarthropathy (eg, ankylosing spondylitis, reactive arthritis. If an acute fascial tear is suspected, MRI is done.
Non Surgical Treatment
Treatment of heel pain caused by plantar fasciitis begins with simple steps. There are a number of options for treatment of plantar fasciitis, and almost always some focused effort with nonsurgical treatments can provide excellent relief. In rare circumstances, simple steps are not adequate at providing relief, and more invasive treatments may be recommended. Typically, patients progress from simple steps, and gradually more invasive treatments, and only rarely is surgery required.
Surgical Treatment
Plantar fasciotomy is often considered after conservative treatment has failed to resolve the issue after six months and is viewed as a last resort. Minimally invasive and endoscopic approaches to plantar fasciotomy exist but require a specialist who is familiar with certain equipment. Heel spur removal during plantar fasciotomy has not been found to improve the surgical outcome. Plantar heel pain may occur for multiple reasons and release of the lateral plantar nerve branch may be performed alongside the plantar fasciotomy in select cases. Possible complications of plantar fasciotomy include nerve injury, instability of the medial longitudinal arch of the foot, fracture of the calcaneus, prolonged recovery time, infection, rupture of the plantar fascia, and failure to improve the pain. Coblation (TOPAZ) surgery has recently been proposed as alternative surgical approaches for the treatment of recalcitrant plantar fasciitis.
Posted on January 9th, 2015
Overview
The plantar fascia is a thick band of connective tissue that runs along the underneath of the foot from the heel bone to the toes. At the heel it can also have fascial connections to the achilles tendon. Its job is to maintain the arch of the foot, it acts as a bowstring pulled between the heel and the toes. "Itis" as a suffix indicates inflammation, but with the plantar fascia there is still some controversy over what exactly happens to the tissue when it becomes painful.
Causes
There are multiple potential causes and contributing factors to plantar fasciitis heel pain. The structure of a person's foot and the way that they walk or run usually play a significant role in the development of plantar fasciitis. Those with an arch that is lower or higher than the average person are more likely to be afflicted. Overexertion and/or participating in activities that a person is not accustomed to also place a person at risk. This can include a heavy workout, a job change, or even an extended shopping trip. Additionally, inappropriate shoes are also often a factor. Exercising in shoes that are worn out or don't have enough support and/or wearing inexpensive, flimsy or flat-soled dress or casual shoes are common culprits. In warm climates, such as here in Southern California, people who wear flip-flop sandals or even go barefoot throughout the year increase their chances of developing heel pain. Many athletes and weekend warriors develop heel or arch pain from over-exertion during running or other sports. People who work at jobs that involve long periods of standing, such as grocery checkers, cashiers, warehouse workers, postal workers, and teachers are more susceptible as well. Adults of all ages can develop plantar fasciitis. Heel pain in children is usually caused by a different type of condition.
Symptoms
Most people with plantar fasciitis have pain when they take their first steps after they get out of bed or sit for a long time. You may have less stiffness and pain after you take a few steps. But your foot may hurt more as the day goes on. It may hurt the most when you climb stairs or after you stand for a long time. If you have foot pain at night, you may have a different problem, such as arthritis , or a nerve problem such as tarsal tunnel syndrome.
Diagnosis
Diagnosis of plantar fasciitis is based on a medical history, the nature of symptoms, and the presence of localised tenderness in the heel. X-rays may be recommended to rule out other causes for the symptoms, such as bone fracture and to check for evidence of heel spurs. Blood tests may also be recommended.
Non Surgical Treatment
Most health care providers agree that initial treatment for plantar fasciitis should be quite conservative. You'll probably be advised to avoid any exercise that is making your pain worse. Your doctor may also advise one or more of these treatment options. A heel pad. In plantar fasciitis, a heel pad is sometimes used to cushion the painful heel if you spend a great deal of time on your feet on hard surfaces. Also, over-the-counter or custom-made orthotics, which fit inside your shoes, may be constructed to address specific imbalances you may have with foot placement or gait. Stretching: Stretching exercises performed three to five times a day can help elongate the heel cord. Ice: You may be advised to apply ice packs to your heel or to use an ice block to massage the plantar fascia before going to bed each night. Pain relievers: Simple over-the-counter nonsteroidal anti-inflammatory drugs (NSAIDs), such as ibuprofen, are often helpful in decreasing inflammation and pain. If you have stomach trouble from such drugs, your health care provider may prescribe an alternative. A night splint: A night splint is sometimes used to hold your foot at a specific angle, which prevents the plantar fascia from shortening during sleep. Ultrasound: Ultrasound therapy can be performed to decrease inflammation and aid healing. Steroid injections: Anti-inflammatory steroid injections directly into the tissue around your heel may be temporarily helpful. However, if these injections are used too many times, you may suffer other complications, such as shrinking of the fat pad of your heel, which you need for insulation. Loss of the fat pad could actually increase your pain, or could even rupture the plantar fascia in rare cases. Walking cast: In cases of long-term plantar fasciitis unresponsive to usual treatments, your doctor may recommend that you wear a short walking cast for about three weeks. This ensures that your foot is held in a position that allows the plantar fascia to heal in a stretched, rather than shortened, position. Shock wave therapy, Extracorporeal shock wave therapy which may be prescribed prior to considering surgery if your symptoms have persisted for more than six months. This treatment does not involve any actual incisions being made rather it uses a high intensity shock wave to stimulate healing of the plantar fascia.
Surgical Treatment
Although most patients with plantar fasciitis respond to non-surgical treatment, a small percentage of patients may require surgery. If, after several months of non-surgical treatment, you continue to have heel pain, surgery will be considered. Your foot and ankle surgeon will discuss the surgical options with you and determine which approach would be most beneficial for you. No matter what kind of treatment you undergo for plantar fasciitis, the underlying causes that led to this condition may remain. Therefore, you will need to continue with preventive measures. Wearing supportive shoes, stretching, and using custom orthotic devices are the mainstay of long-term treatment for plantar fasciitis.
Prevention
The following steps will help prevent plantar fasciitis or help keep the condition from getting worse if you already have it. Take care of your feet. Wear shoes with good arch support and heel cushioning. If your work requires you to stand on hard surfaces, stand on a thick rubber mat to reduce stress on your feet. Do exercises to stretch the Achilles tendon at the back of the heel. This is especially important before sports, but it is helpful for non-athletes as well. Ask your doctor about recommendations for a stretching routine. Stay at a healthy weight for your height. Establish good exercise habits. Increase your exercise levels gradually, and wear supportive shoes. If you run, alternate running with other sports that will not cause heel pain. Put on supportive shoes as soon as you get out of bed. Going barefoot or wearing slippers puts stress on your feet. If you feel that work activities caused your heel pain, ask your human resources department for information about different ways of doing your job that will not make your heel pain worse. If you are involved in sports, you may want to consult a sports training specialist for training and conditioning programs to prevent plantar fasciitis from recurring.